EUROPEAN ALBUM RELEASE TOUR
Here it is, the full European album release tour for our upcoming record Cold Was The Ground! CD and Vinyl copies of the album will be available at each show. Also, the first week and a half will be shared with Greenleaf. If your city is not listed, don't worry because we'll be back in Europe in June and again in August!

Posted by
TMGT
on
Dec 15 2014
@
10:29PM
PREORDER our new album "Cold Was The Ground"
The Pre-order has arrived, this is your chance to reserve a copy of our absolute greatest piece of work. This album will change the game for not only us… but for rock and roll, we promise you that. Pre-order of this album is strongly suggested because our supply that we will have on tour with us will be very limited. So pre-order our masterpiece RIGHT HERE, then come see us do it live.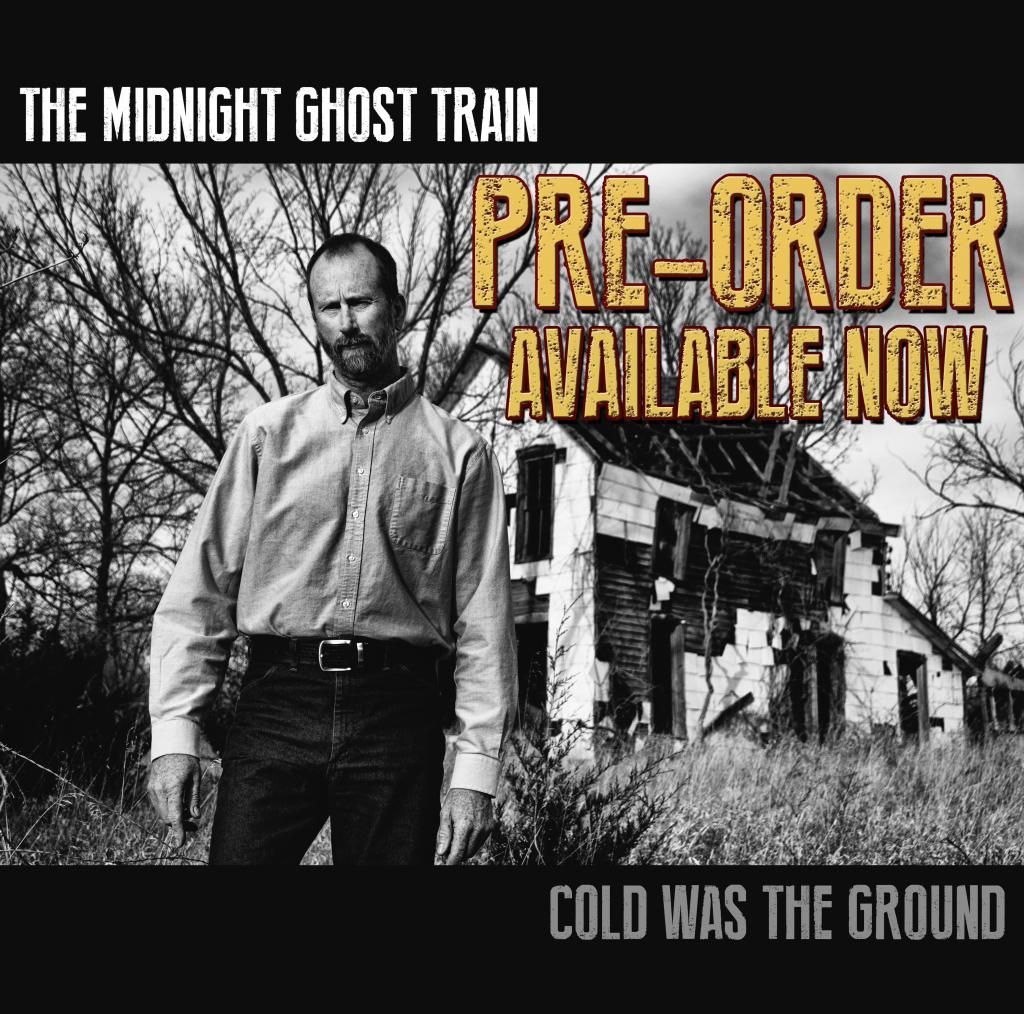 Posted by
TMGT
on
Dec 2 2014
@
9:24AM
Yes we have created a short film, to get fans ready for our new album. Now this is not your typical album promotion film. This is not NOW THATS WHAT I CALL MUSIC VOLUME 53. This is very different from anything else out there. Us and breaker box productions, worked our asses off on getting this to look and be as awesome as possible. This is for the fans, we did this to get you guys ready and excited for the new album. So watch… listen… and most of all enjoy our newest creation.
Posted by
TMGT
on
Nov 25 2014
@
9:49AM
New Album "Cold Was The Ground" Front Cover, Release Dates and Tracklisting
The release of our new album "Cold Was The Ground" is getting much closer. So we figured we should give you a little more of a look into what will soon be arriving.
Release Dates:
2.28.2015 – GSA / Europe / AUS
3.02.2015 – UK / NO / FR / DK / IT
3.04.2015 – SE / ESP
3.10.2015 – USA / CAN
Tracklist:
1. Along The Chasm
2. Gladstone
3. BC Trucker
4. Arvonia
5. One Last Shelter
6. The Canfield
7. Straight To The North
8. No. 227
9. The Little Sparrow
10. Twin Souls
11. Mantis

Posted by
TMGT
on
Nov 18 2014
@
9:54AM
Posted by
TMGT
on
Nov 18 2014
@
1:00AM
We have added some new merch to our online store with more on the way. Be sure to check it out.
Posted by
TMGT
on
Oct 29 2014
@
11:12AM
If your reading this right now you will notice that OUR WEBSITE IS BRAND SPANKING NEW. Were very excited to deploy this site created by Brandon Miller, This is going to be the place where many of the new and exciting news is going to be posted. Holy shit do we have some new news coming your way thats gonna knock you on over. So keep checking back. Cause were taking over.
Posted by
TMGT
on
Oct 20 2014
@
6:21PM
TMGT signs with Napalm!!!
ATTENTION THE BIG BIG NEWS IS IN. We are unbelievably proud to announce that The Midnight Ghost Train has just now officially signed with one of the BIGGEST heavy music labels in the world… NAPALM RECORDS. Napalm will be releasing our new album "Cold Was The Ground" on vinyl, CD and digital. Thank you to all the fans that been sticking with us over the years, and has helped to make our band grow. Now it's time to do some major damage in the ROCK world!
Posted by
TMGT
on
Aug 5 2014
@
9:52AM
We are back and ready to do what we do best. Desertfest Berlin, Desert Fest London, Freak Valley Fest, and lots of awesome shows in The Netherlands, Germany, France, Belgium, Spain, Italy, Slovenia, Czech Republic, Austria and Switzerland. Were gonna be playing all our new songs that will be on our upcoming album that we will record immediately after this tour is over. Were playing around 40 shows so plenty of chances to catch us. Excited to be back and better than ever. Thank you to all the promoters and to Sound Of Liberation for making this tour possible. We wont let you down. Our plane takes off in a couple hours, see ya soon.
Posted by
TMGT
on
Apr 20 2014
@
10:32PM
We are BACK. And way better than ever. This upcoming tour is a short run. Actually the shortest tour we have ever done. But a couple weeks after this tour has ended we will be back out again for a LONG HAUL. This tour were gonna be tearing through the midwest. Lots of killer shows coming up, we got more brand new songs, and a brand new additude and we are gonna destroy everything in our path. So check out the tour poster, spread the word, and see you at the show.
!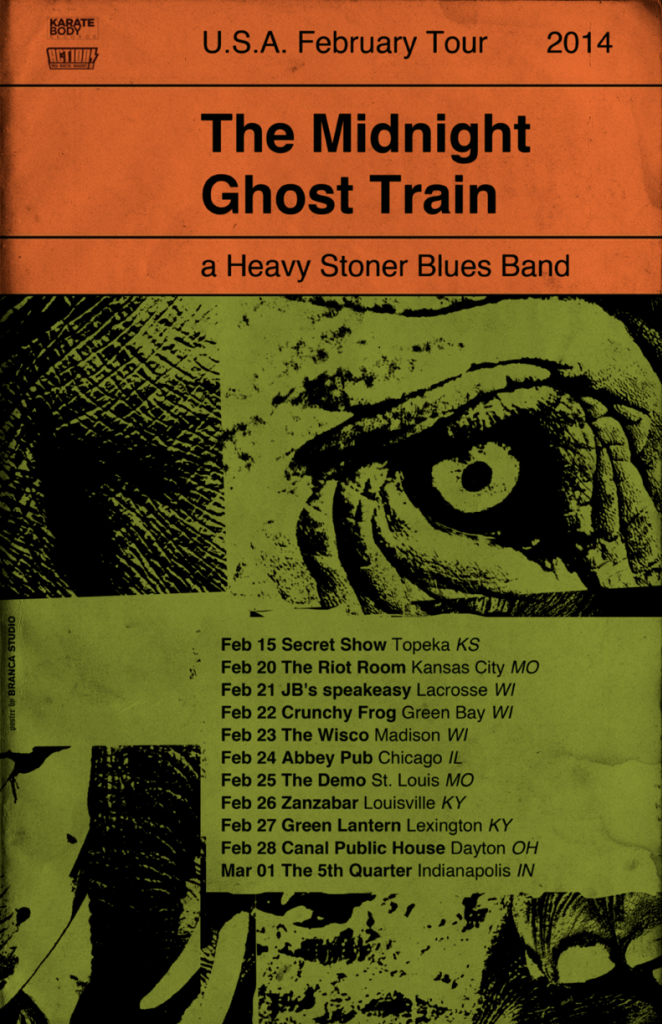 !
Posted by
TMGT
on
Jan 25 2014
@
11:30AM
TMGT For Big Brother Big Sister Program
In memory of my father, who founded the Big Brother Big Sister Program, saved thousands of children's lives, and left a beautiful legacy behind him that will continue to save millions of kids lives. The Midnight Ghost Train has decided to collect donations for the Big Brother Big Sister Program. We're asking our fans to make a difference in a child's life. Big Brothers Big Sisters is a non for profit agency that relies on donations in order to match up children from broken down homes with an older role model, that spends time with them, mentors them, takes them to baseball games, to the park, help with school work, and so much more that allows the child to have a wonderful life. Children are the leaders of our future and especially nowadays they need help from programs like this who are completely focused on the child's best interests. We will take any amount of money for the donation. If you donate $10 or more we will send you a free Midnight Ghost Train tshirt. $20 or more and we will send you a free tshirt and cd. $30 or more we will send a tshirt, cd, and Vinyl. $50 or more and we will send you an entire package consisting of CD, tshirt, vinyl, poster, stickers, patches, and yes
TMGT
hot sauce. To donate please Paypal us the money at themidnightghosttrain@yahoo.com If you don't have Paypal you can donate through https://fundly.com/tmgt-for-big-brothers-big-sisters-program?ft_src=email_share_mobile Don't forget your address so we can send you your gift. 100% of the money will go straight to the
BBBS
program. Please help us make a difference in a child's life, and we will continue helping you rock out.
Posted by
TMGT
on
Jan 14 2014
@
1:46PM